We don't realize how greatly we depend on our household assistants until they fail. With Appliance Repair in Toronto, your faulty devices will be usable in hours! With a variety of spares in our warehouse and fully stocked vans, our best crew is always on standby to save the situation. From kitchen to laundry equipment, we are furnished with the latest technology to restore any appliance, new or old!
This is more than basic expertise: our engineers are absolute professionals in the industry and will eliminate the problem with your equipment faster, better, and with less hassle than you could imagine. We guarantee fast completion of work, round-the-clock assistance, and original parts to fix your appliances in Toronto to last. Customer delight is our primary objective. We believe that great service is about making sure you are satisfied every step of the way. From the point you call our customer service team to the moment your unit is back to peak efficiency, we have procedures in place to guarantee that you will not have to worry about anything.
With years of combined experience in this field, no repair is too complex for us. If you do not know where to start repairing your device, leave this to our appliance repair company in Toronto!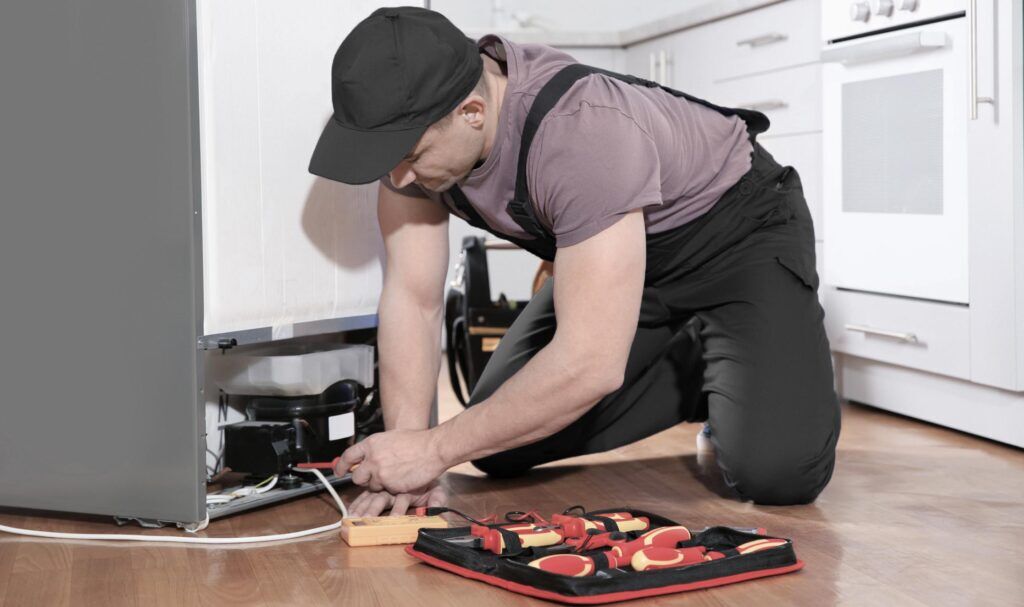 Appliance repair services in Toronto – we will get it working again!
Appliance breakdowns can happen at any time, and then you'll be forced to deal with a broken dishwasher, an oven that won't heat up, or, worst of all, a refrigerator or freezer that won't keep food at a safe temperature. When your household assistants break down, you want the problem fixed as quickly as possible and for pleasant rates. Don't stress – we are here to help with speedy appliance repair services in Toronto at unbeatable rates! We service most brands and models of devices, from popular to high-end ones. Here is what we offer:
Refrigerator repair
A broken fridge is not just an inconvenience; it can lead to costly food waste and ruin your day. Few people have a second refrigerator to keep food from spoiling, so timely fridge repair is critical. Poor cooling, defective ice or water dispenser, excessive noise, no lights, leaking, and ice build-up are the most common malfunctions you might face. If your refrigerator shows the mentioned problems or any other issue that affects its performance, it's time to call refrigerator repair technicians as soon as possible.
There is no refrigerator brand or model that our fridge repair experts in Toronto cannot repair. You can entrust your refrigerator to the experienced hands of our pros for fast, quality repairs that are made using factory-certified parts!
Washing machine repair
The moment when you loaded a full tub of laundry into the tank, it filled with water but then stopped working, can be frustrating. The solution is to contact experts for same-day assistance! The most frequent problems that can haunt your washing machine, preventing it from doing its important job, are leaks, no drains, poor washing, and many more. But none of them can puzzle our washing machine repair specialists in Toronto – they will pinpoint the problem and solve it easily in one visit, as all the necessary parts are available in our well-stocked service vans.
Dishwasher repair
Having a dishwasher in need of repair, plus a mountain of dirty dishes to deal with by hand, is nothing pleasant. When this happens, you definitely don't want to wait long for repair services. Even if your unit has not stopped working completely, some issues can arise and affect the quality of its performance: not draining properly, loud operation, leaking, poor drying, or dishes coming out dirty. We have a dishwasher repair solution for every customer in Toronto. Whether your dishwasher is a few years old or relatively new, we can quickly diagnose it, replace defective parts and get your device running smoothly again!
Dryer repair
While hanging laundry out to dry is an easy option in case of a broken dryer, few of us have enough space to place an entire load of laundry. The best solution is to turn to a professional repair company that will complete the repair on the same day. Several common issues can occur to your clothes dryer, leaving you with wet clothes and the problem of drying them without your machine: noisy operation, broken door, overheating, poor drying, the drum not rotating, and more. Regardless of the problem, our dryer repair specialists in Toronto can take care of it. They are experts in diagnosing and repairing all types of clothes dryers efficiently!
Oven repair
An oven breakdown is a huge inconvenience, especially if, halfway through cooking, you find out that the food is not being cooked. Many possible failures can affect your oven, causing you discomfort: oven not turning on or heating up, error codes on the display, self-clean function not working, broken lights, uneven baking, and others. To get your kitchen back to full function as fast as possible, call us for prompt oven repair in Toronto!
Stove repair
A broken stove can leave you with the inconvenience of cooking urgently on alternative appliances. Don't worry – our pros have experience fixing all types of stoves, ranges, and cooktops, including electric and gas models, in one visit! Weak flames, faulty burners, a broken touch panel, or any other malfunction will be fixed in a matter of hours, and you will enjoy the smooth operation of your unit again. Remember that discomfort is not the only reason for immediate repair. A faulty stove can also pose a danger to your home, especially when you consider the risk of gas leakage and fire! Contact our stove repair technicians in Toronto at the first sign of a malfunction to ensure your family's safety.
Have you had it up to here with a faulty appliance that ruins your plans and takes your precious time? We are your best go-to option for all major appliance-related issues! We strive to deliver the most competitive, durable, and timely repair services you will be impressed with!