Don't rush to throw your devices away if they are on the verge – give us a call! Having been in the business for decades, we at Appliance Repair Toronto can cover all kinds of appliance-related issues. We service classic and high-end brand equipment, and customers rely on our same day appliance repair in Hamilton to get their equipment back to peak working condition – normally in a single visit. Whether it is your fridge, oven, washer, dryer or any other device that needs to be fixed, our team will take care of it quickly and at a fair price!
Our specialists are uniformed, licensed and have the appropriate certificates and permits. Easily recognizable service vans are stocked with genuine, factory-certified parts, and we always aim to repair and restore your unit in one call. All our work and parts are fully warranted. We are a caring and dependable appliance repair company in Hamilton, known for its personalized approach to customers. With 24/7 support team for any emergencies, you can rest assured that you will receive a personal response at all times.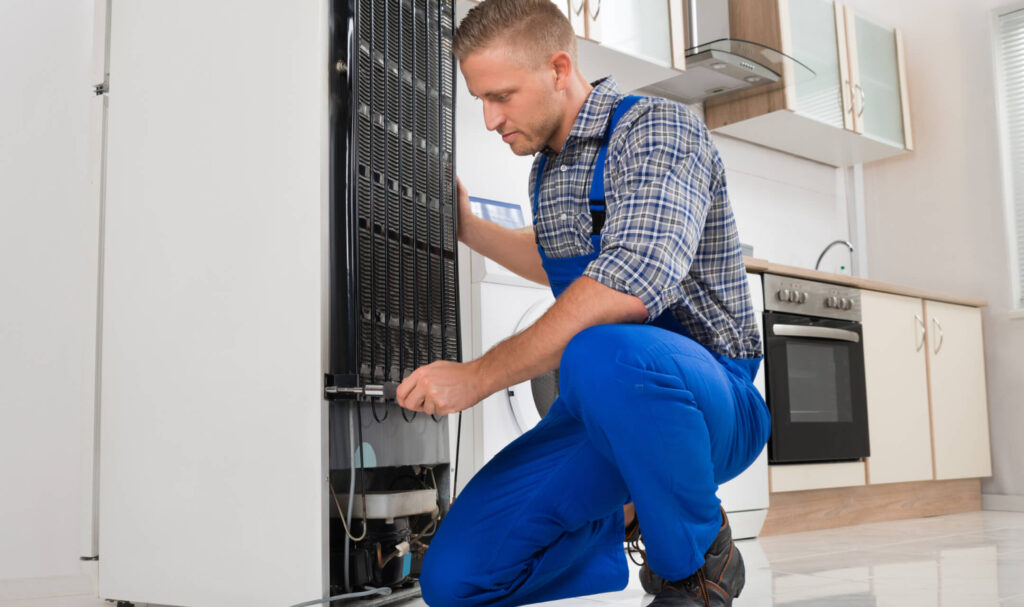 Hundreds of satisfied customers will confirm that you will hardly find another company in the area that is more committed to delivering top-quality service than Appliance Repair Toronto. We will go the extra mile to complete the task efficiently and to the highest standards. Our trusted, courteous and seasoned appliance repair technicians in Hamilton will show up right on time and use the finest techniques, equipment and training to properly diagnose and eliminate any issues you might encounter with your appliances. Our commitment is to give you an understanding of what exceptional appliance service is about!
Appliance repair services in Hamilton – we are up for the task!
No device is designed to last forever, so breakdowns are inevitable and can catch you off guard. But don't rush to purchase brand-new appliances – before you spend a ton of money on a new oven or refrigerator, give us a chance! We strive to lead the way in customer service by solving your problems with any devices you may have in your home. Take a look at the appliance repair services in Hamilton we have to offer:
Fridge repair
There is no point in buying and cooking the best and freshest products if you can't rely on your fridge to store them properly! Therefore, it is imperative to get professional refrigerator repair as soon as you notice any irregularities in your unit: leaking, poor cooling, excessive noise, ice build-up and others. Luckily, you can count on our company for prompt, professional service on any make or model of refrigerator you may have. We won't waste your time and money guessing about unnecessary or improper repairs. Instead, you can rely on our fridge repair specialists in Hamilton to thoroughly inspect your unit, correctly diagnose the cause of your problem and fix it easily!
Washing machine repair
If your washer is acting up – it won't start, the drum is not moving, you find a puddle of water on the floor or see an error code that looks like hieroglyphics, don't stress! Our seasoned experts will correctly diagnose and eliminate any washer malfunction that you may encounter, relying on their extensive experience with the latest models and knowledge gained at certification courses. Turning to us is your best solution for washing machine repair in Hamilton!
Dishwasher repair
Are you losing the battle with dirty dishes? Stop wasting your time doing the work your dishwasher should be doing for you! Instead, contact us for professional dishwasher repair services. There are no dishwasher problems that could stump us. Regardless of malfunction (leaking, door not closing, improper cleaning, long wash cycles or any other), our highly skilled specialists will be able to quickly eliminate it. Using high-quality spare parts and professional tools, our dishwasher repair specialists in Hamilton will handle the repair in no time!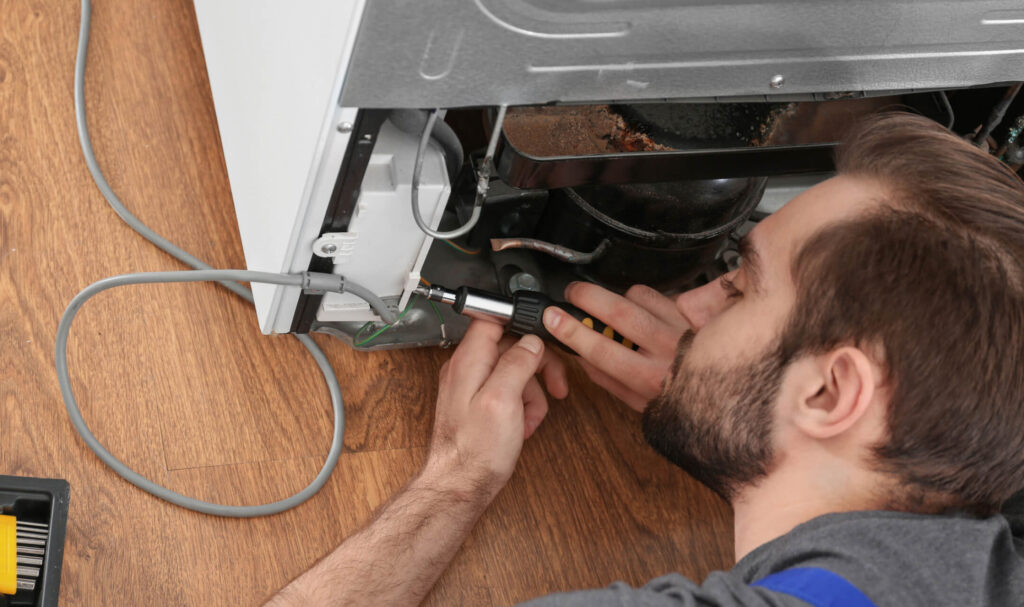 Dryer repair
Recently, with the explosion of "smart" technologies for laundry, dryer repair has become more complicated. But not for our pros! No drum movement, no power, poor heating, excessive noise or vibration – they have seen (and solved) it all. At Appliance Repair Toronto, we only use the highest quality replacement parts; this allows your dryer repairs to last and gives you great value for your money. Whether it is a mechanical defect or a lack of proper maintenance that caused the breakdown, you can count on our dryer repair technicians in Hamilton to provide the right solution!
Oven repair
Did your last attempt to dive into the world of baking go horribly wrong? Do you have to constantly change the time or temperature on your oven? Leave this to us! No matter what type of oven you have, from the humblest model to the most high-tech, we have the know-how to solve your problems with uneven heating, oven door not latching, faulty timer or self-cleaning feature not working. We use only the highest quality parts that have been specifically approved by your oven manufacturer. Don't let your malfunctioning oven steal the joy of cooking – turn to our oven repair specialists in Hamilton instead!
Stove repair
Malfunctioning burners and slow or uneven heating may put your meals at risk. Fortunately, you don't have to stress because of a faulty cooktop or stove. All you have to do is call Appliance Repair Toronto for fast, efficient, and affordable repairs. You can count on our highly qualified and experienced technicians to return your stove to its safe and reliable working condition. We can provide expert stove troubleshooting and repair in Hamilton tailored to your needs, no matter which type of equipment you may have in your kitchen!
One of the most frustrating experiences you can have as an appliance owner is having to make the same repairs over and over again due to poor service or substandard parts. When you entrust your equipment to Appliance Repair Toronto, this does not happen! We treat your appliances as if they were our own and strive for long-lasting repairs while delivering top-notch work. Give us a call and enjoy the comfort of smoothly running appliances for years to come!